We realize that your home is one of your largest investments and when it's time to do renovations it can be an overwhelming and daunting task.  While we are not a home inspection company, we offer a trained eye to analyze the condition of your home and provide a recommendation for solutions, whether the item calls for repairs, replacement or calling upon a specialist.
Fail to plan, plan to fail… Let's make a plan!
offering as much or as little assistance as you would like
prioritizing needs and wants
professional assistance with planning and managing home renovation projects
examine the interior and exterior of your home (including but not limited to: kitchen, bathrooms, heating/air conditioning, electrical panel, flooring, paint, water damage, roof, siding, windows, gutters, chimney, driveway, landscaping)
Realistic expectations based on budget and condition of the home
From concept to completion, we'll help you develop a plan you can build on.
Initial Consultation Pricing – All prices are based upon individual needs and dwelling size  (Ranging from $300-$500)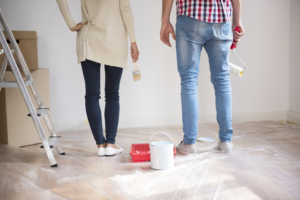 Additional Services:
Project Management
Managing the remodeling contractor
Monitoring quality control
Managing the project schedule
Managing weekly project meetings
Monitoring payment schedule and payments
Troubleshooting and Crisis Consulting
Mediating disputes
Advocate for Your Interest
Fix up or move?
We can help you answer that question by working through design possibilities, helping you prioritize your needs, and providing you with realistic estimates on costs and timelines.  We can also estimate the return on your investment based on other property sales in your neighborhood.
The cost of this service ranges from $200 -$500.
Troubleshooting and Crisis Consultation – Home Renovation Consulting
Sometimes there is a nagging repair you can't get around to finding someone to fix or a problem that your house has that you cannot solve.  We can help sort them out for you.
Or, your renovation may be underway but for some reason, the job has gotten off track, and communication among the parties seems to have broken down. If so, it can be helpful to have an advocate for your interests, or simply an objective, knowledgeable third party to help resolve things.
If your project's not going the way you want it to, call us for help.
The cost of this service is $150/hour